The Guitar Nebula
Bow shocks are observed on a wide variety of astrophysical scales, ranging from planetary magnetospheres to merging galaxy clusters. Some of the most spectacular bow shock nebulae are those associated with neutron stars: the Guitar Nebula is a visually striking example. It was discovered in 1992 (Cordes, Romani and Lundgren 1993, Nature, 362, 133) and has been observed regularly since then, both with the Hale Telescope at Palomar and with the Hubble Space Telescope.
---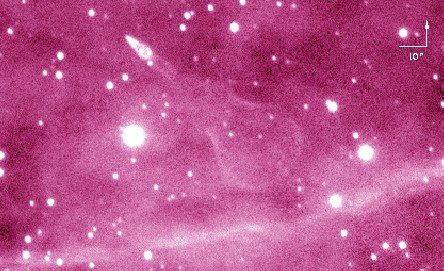 ---
The Guitar Nebula is produced by an otherwise ordinary neutron star, B2224+65, which is travelling at an extraordinarily high speed: about 1600 km/sec, or 1000 miles per second! The neutron star leaves behind a "wake" in the interstellar medium, which just happens to look like a guitar (only at this time, and from our point of view in space).
The Guitar Nebula is about 6.5 thousand light years away, in the constellation of Cepheus, and occupies about an arc-minute (0.015 degree) in the sky. This corresponds to about 300 years of travel for the neutron star.
---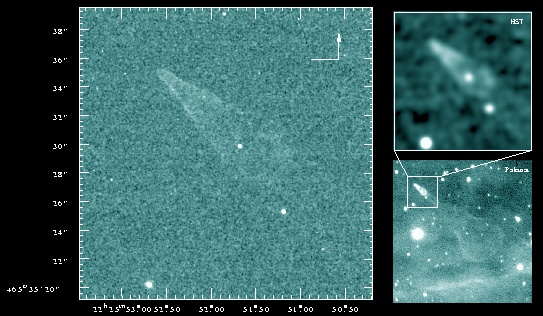 The head of the Guitar Nebula, imaged with the HST Planetary Camera.
This Hubble Space Telescope image was acquired in late 1994 (7200 seconds, 2.2 nm filter at 656.4 nm). North is up and east is to the left, as indicated. The lower right panel shows the region covered by the HST image, superimposed on the mid-1995 Palomar image. The upper right panel shows the HST image after blurring to emulate the effect of the atmosphere at Palomar. This makes the bright head and the neck of the Guitar visible, and illustrates the advantages of space-based imaging over ground-based observations: even though HST is a smaller telescope than Palomar, it has "sharper" vision because it does not have to look through the Earth's atmosphere.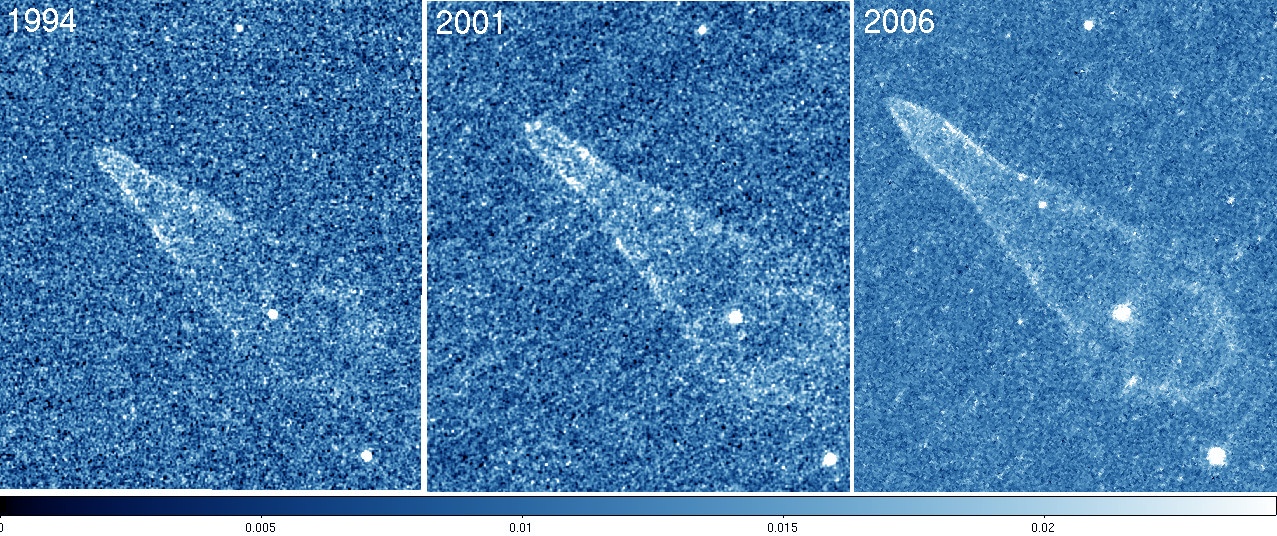 The head of the Guitar Nebula, imaged with the Hubble Space Telescope in 1994, 2001, and 2006. The change in shape traces out the changing density of the interstellar medium.
---
Animations:
---
Related Publications:
---