---
---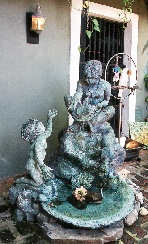 Old town in San Juan is full of winding streets, quaint houses, bright splashes of color. El Castillo del Morro overlooks the sea, still defending the island from the Spanish armada.
And there is beautiful old sculpture and architecture everywhere - but check out the grinning plastic crocodile that lives in one such piece!
---
If you were to imagine a tropical paradise island, would it look like this?
The little island of Vieques, off the Carribean coast of Puerto Rico, is a laid-back little island not quite on the tourist map: pristine beaches, sunny days, gorgeous sunsets. And it is home to some of the finest bioluminescent bays anywhere in the world.
Alas, there is trouble in this paradise too.
Vieques has a US Navy base sprawling over half the island, and while the US compensates Puerto Rico (possibly quite generously) for the use of the island, not much of the money trickles back into Vieques, leading to much resentment among the islanders. Meanwhile, there are accusations of stray gunfire, pollution, chemical weapons leaks, higher cancer rates et al: see the Peace 4 Vieques web pages for the islanders' side of the story.
---
Puerto Rico is home to parakeets of various kinds, all with their own brash personalities. And they speak Spanish, as Maura demonstrates here!
Every trip needs its classic group picture: here are all of us, thanks to a gracious islander who took this for us and wished us a good trip. In order: Aris on the wall; Andrea, Maura, Eric, Adam, Rick, Ingrid and our intrepid leader Dunc; and Fernando and me kneeling up front. Pulsar astronomers all! (Again, click on the pictures for larger copies.)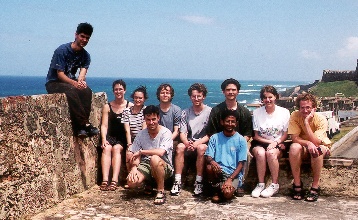 And a few other pictures from the boat trip to Vieques: check out Eric, Master of All he Surveys.
---